Learn more what it means to be a Va-LEND Trainee in the video below!
Are you interested in being a Va-LEND Trainee? Email valend@vcu.edu for more information.
About Va-LEND
Va-LEND is an online interdisciplinary leadership training program offered through the Partnership of People with Disabilities within the Virginia Commonwealth University (VCU) School of Education. The Va-LEND program is part of a larger network of 60 other LEND programs across the nation, which are federally funded through the Maternal and Child Health Bureau. The Va-LEND faculty represent 16 disciplines from 6 Schools at VCU and the Department of Communication Sciences and Disorders at Longwood University.
The interdisciplinary program provides 12-24 months of interactive seminars, clinical and community-based practice, planned community grassroots, and systems level policy activities, and a family mentorship experience. The curriculum emphasizes all aspects of neurodevelopmental and related disabilities, social and family environments across the life course, the interdisciplinary approach, leadership, and research and includes:
Interactive Seminars
Clinical and Community-based experiences
Family Mentorship Experience
Grassroots and Systems Level Policy Activities
Learn more about the three different LEND tracks here: Long-Term Academic, Long-Term Non-Academic, and Advanced Medium-Term Track.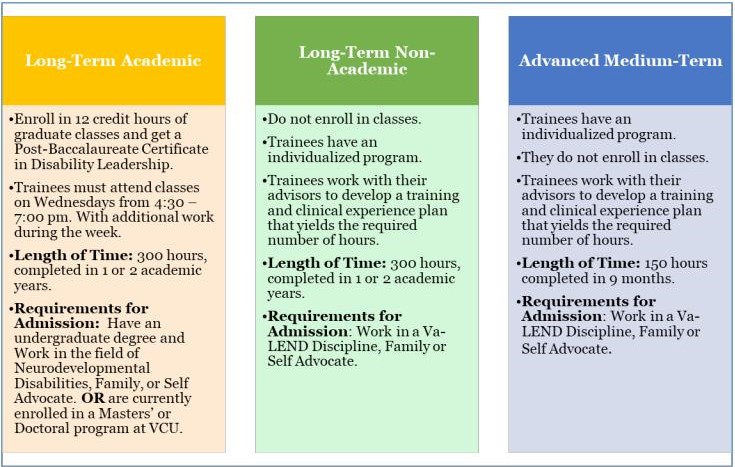 We accept applicants for the following disciplines:
Audiology
Education/Special Education
Family Member
Genetic Counseling
Law
Medicine
Nursing
Nutrition
Occupational Therapy
Pediatric Dentistry
Physical Therapy
Psychology
Public Health
Self Advocates
Social Work
Speech-Language Pathology